By: Emily Yakashiro
"As  we create new spaces for expressing what the mixed-race experience is, we refresh stale racial discourse, and make more room for collapsing binary racial theories […] Agency means being able to shape our selves both according to and against labels. Having a voice means contributing to the larger narrative about race in a way that allows individuals to learn from each other's stories."

–  Adebe De-Rango Adem and Andrea Thompson
As a mixed-race woman, something that has caught my eye over the years is the presentation of mixed race women in the media in general, and also (of course) in fashion & personal style blogs. There are a lot of politics and complications with being mixed-race, which I won't go into here, but suffice to say it's worth reading more about*.
When I started my own personal style blog, I did so with the specific intention of exploring fashion and style while observing how that interacts with my race(s). While positive comments about my style vastly outweigh the negative comments overall, I still get really stuck on things that pertain to my race(s) in particular. For example, I have found over the years that reactions to my style can range from disappointment ("you look really white-washed today…") to curiously pigeon-holed ("wow your outfit is so Asian!"). Note how the comments focusing on my Asian-ness seem positive, whereas the comments on my perceived white-ness are a touch more negative (I'm 1/4 Irish and Scottish, thank-you very much). It often seems as though I am also supposed to fulfil some sort of physical quota outfit-wise as a person of colour(s), and dress like an 'Asian girl' to a certain degree, or run the risk of being perceived as 'trying to be white'.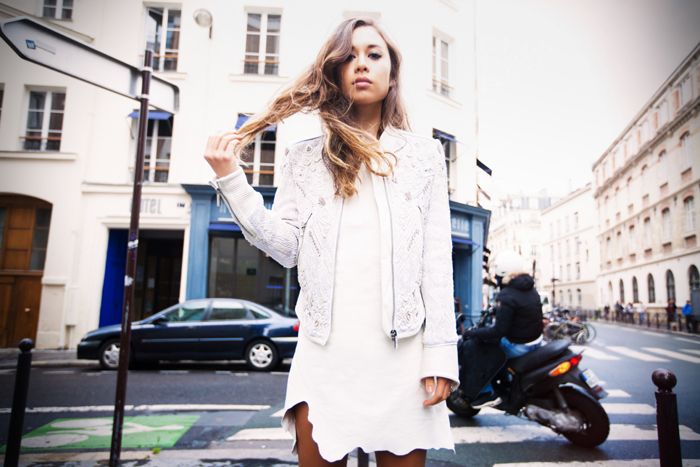 Given all this, I was super-excited about 5 years ago when a friend emailed me a link to a little blog called Fashiontoast, written by and featuring the ever-stylish Rumi Neely (you may have heard of her…), a woman I instantly recognized as being mixed-race (what can I say, maybe it takes one to know one?). At the risk of sounding like a total fangirl, her style then, as much as it does now, pushed boundaries and was  a refreshing and welcome inspiration for me (then a 1st year student at the University of British Columbia). It was/is important for me to see a woman out there like Rumi (above), who shares an aspect of her identity in common with me, navigate her way through the world– all while being impeccably dressed, well-spoken, and just generally seems to be pretty comfortable in her own skin.
I guess that's one of the most powerful things about a personal style blog for me–you are actively choosing to put yourself out there in a way that is mostly focused on your 'looks' and style, and you are defining the particular presentation of that outfit yourself. People can judge all they want, but at the end of the day, I know precisely why I wore a given outfit, and I am okay with that. As such, I could post outfit pics on my blog in which I wear a really cute Totoro pin, not because I am part Japanese and ergo a huge anime fan, but because Totoro, like Snoopy, Mickey, and Garfield, is just a culturally recognized critter that makes for a good accessory.
Indeed, blogging gives me the opportunity to be explicit and implicit about such details, and I can clarify as I see fit; wearing a Totoro pin should not automatically make me perfect fodder for a Harajuku street style blog any more than it should for Garance Dore. I usually choose my outfits very, very specifically–dependent on my mood, where I am going that day, what I've been reading or watching lately that has inspired me, etc.
Since discovering Rumi's blog, I've gone on to discover other bloggers who are mixed race, and it's been an interesting personal project for me to see how their style is always changing and evolving–to their taste, and as they see fit.
Other mixed-race bloggers I love:
Christina Caradona of Trop Rouge
Peony Lim of the eponymous blog
Keiko Groves of Keiko Lynn
A Few Good Books/Articles on being Mixed-Race*
On Containing Multitudes by Leeann and Marie on Rookie Magazine
Other Tongues: Mixed-Race Women Speak Out ed. by Adebe De Rango-Adem and Andrea Thompson
Diamond Grill by Fred Wah
Salt Fish Girl by Larissa Lai
This article on Appearances Can Be Deceiving: The Dresses of Frida Kahlo